Published on by Simpleblue 67 Comments Updated on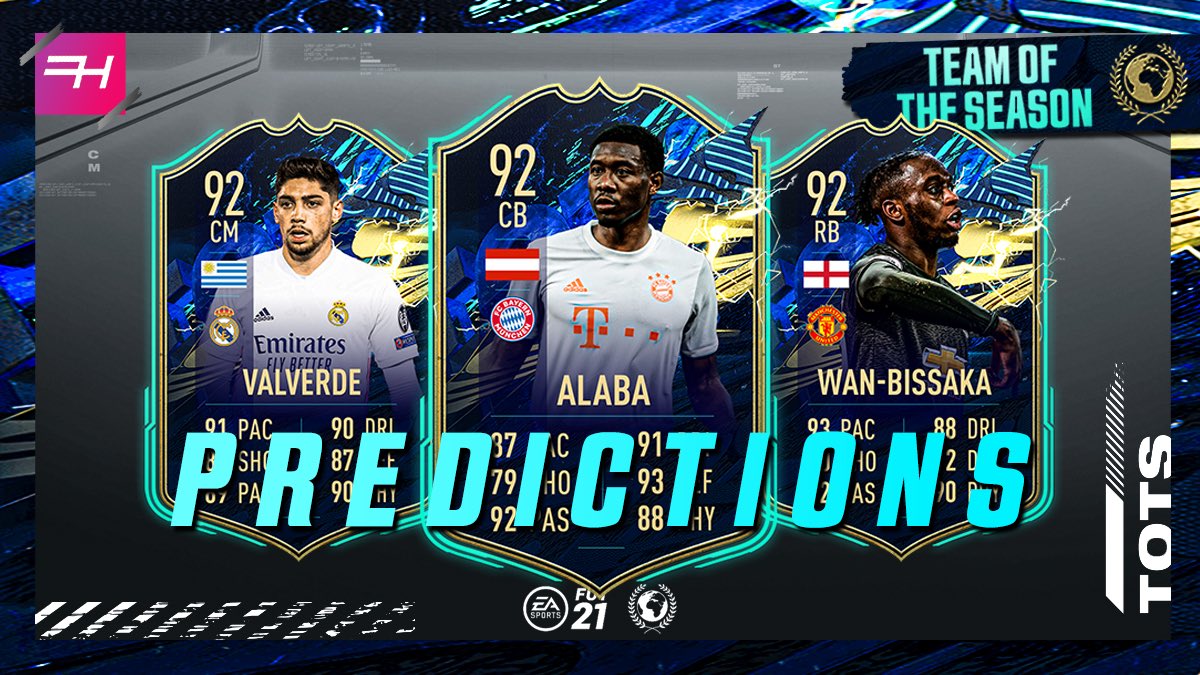 Predictions and cover image by Simplblue88 - for more predictions, Designs and FIFA related graphics follow Patric on twitter!
Squad Link: https://www.futhead.com/21/squads/239914/
Goalkeeper
P. Gluacsi GK – RB Leipzig - 86 -> 93 Rated: We're starting off the community TOTS prediction with Leipzig's shot stopper Peter Gulacsi. Leipzig has the best defence in the league with just 23 goals conceded in 29 games so far which surely came down to the whole defensive line but Gulacsi also is the best keeper in the league this season statistically with 14 clean sheets and a TOTS item would definetly be well deserved.

Defenders
N. Mukiele RB – RB Leipzig - 84 -> 91 Rated: The first defender also comes from RB Leipzig in the name of Nordi Mukiele. I personally would have expected Orban to make it into the voting process but you literally can hand out TOTS cards to the whole Leipzig defence this year. He played most of his games on the right-back position and also managed to score 3 goals and assist another. The fact that he's French and therefore easy to link, the voting restrictions and the current meta makes me think that he's going to pick up a TOTS card.
D. Alaba CB – Bayern Munich - 89 -> 92 Rated: This is the last time for a while or forever that we will see Alaba getting a TOTS card at Bayern as he will leave the club in the summer and it could be a very decent one. The 28-year-old played a solid season at the heart of the back for Bayern and with him being an opion to vote for I can't see him missing out.

K. Zouma CB – Chelsea - 80 -> 89 Rated: One player who probably went a bit under the radar is Chelsea Frenchman Zouma. Despite the rarity of Zouma finding the net, he actually has scored 5 goals this season which makes him the highest-scoring defender in the Premier League for 2020-21 and added to that and what is most important, he managed to keep a high number of clean sheets.
A. Wan-Bissaka RB – Manchester United - 85 -> 92 Rated: Manchester United have been one of the most impressive teams in the Premier Leagze and a lot has been down to the arrival of Bruno Fernandes. But they've also managed to find a level of robustness at the back, which has enabled them to build forward momentum. Wan-Bissaka at right-back has divided opinions because of his ineffectiveness while moving forward but his defensive solidity is unmachted in the Premier League.

Midfielders
F. Valverde CM – Real Madrid - 85 -> 92 Rated: The first of the three Midfielder most likely is going to be Madrid's Valverde. Performance wise I wouldn't have given him a TOTS card with just 11 appearances in La Liga this season but as people can vote for their favourite players I absolutely can't see him not being included and let's be honest, this could be one of the best central midfielder cards in the game with his allround stats.
T. Ndombele CM – Tottenham Hotspur - 83 -> 91 Rated: Another absolutely incredible TOTS midfielder could be on his way in the name of Ndombele. Tottenham is not having their best season and I probably would have included Hojbjerg in my personal selection but the fact he's french and people loved his Summer Heat card last year makes it nearly impossible to exlcude from the side.

F. Chiesa RM – Piemonte Calcio - 82 -> 91 Rated: We're now coming to Chiesea when speaking about players who could pick up a really decent TOTS item. The Italian winger is one of the best offensive players of Juventus with 7 goals and 7 assists to his name so far and could be a very good links for Ronaldo and looks like a fun card to use.
Forwards
L. Bailey RW – Bayer Leverkusen - 84 -> 92 Rated: It became something like a tradition that Leverkusen starts struggling in the second half of the season after they've played a really good first one. But even now they're still fighting for the international spots in the Bundesliga and Bailey is one of the few constant performers for his side with six goals and six assists so far.
H. Barnes LW – Leicester City - 88 -> 92 Rated: The England international has enjoyed a meteoric rise to prominence this season. Under Brendan Rodgers, Barnes has not only added a serious menace and threat to Leicester's left flank, but he has also added goals to his game, netting nine so far his season, with a further of four assists.
O. Edouard ST – Celtic - 81 -> 90 Rated: Edouard was a player I've actually considered to include in the previous community prediction and with him now being available in the voting process I think there's a good chance he'll make it due to the voting restrictions. Although Celtic failed to defend their title this season for the first time in years Edouard still had an incredible season with currently 16 goals and three assists to his name and his TOTS would be a mad good card and easy to link.
Substitutes
A. Areola GK – FC Fulham - 82 -> 90 Rated: The second goalkeeper pick was a bit hard as I was Areola and Schmeichel but I decided to go with Areola in the end due to the fact he's French and therefore easier to link. Does he deserve it over Schmeichel or other goalkeepers? Probably not but it's a community vote and a lot of people tend to vote for players who are easy to fit in their squads.

L. Digne LB – Everton - 86 -> 93 Rated: The French left-back has been one of the players who has benefitted the most from Ancelotti's arrival at Everton. He was one of the key players in Everton's impressive start to the 2020-21 Premier League season, when they won their first four games and Calvert-Lewin's aerial prowess in the box has been matched by Digne's ability to deliver quality balls into the box too.

M. Merino CM – Real Sociedad - 80 -> 89 Rated: Real Sociedad has played scintillating soccer this season, entertaining the San Sebastian faithful week in week out. Mikel Merino has been integral to La Real's succes, pulling the strings from the heart of midfield. The 23-year-old is one of La Liga's most sought-after midfielders and seems to take the next step now for both club and country.

C. Nkunku CAM – RB Leipzig - 83 -> 90 Rated: The third Leipzig player who could find his way into the community TOTS is the French attacking midfielder Nkunku. Although his surface statistics have worsened this season, Nkunku has been one of Leipzig's most important players and still managed to score six goals and assist another 5 and his TOTS item isn't looking bad.

Other Options
T. Kadewere RW – Olympique Lyonnais - 74 -> 87 Rated: Tino Kadewere has been one of Europe's breakthrough players this season with 10 goals and three assists in 23 Ligue 1 appearances. The Ligue 2 Golden Boot winner from last season adapted quickly and should already picked up at least two special cards so his inclusion in the community TOTS woul be more than deserved.

B. Yilmaz ST – LOSC Lille - 82 -> 90 Rated: Jonathan David's big-money arrival from Gent rather grabbed the column inches in northern France last summer, with the signing of Yilmaz somewhat under the radar. He's currently Lille's top scorer with 10 goals and four assists and could be a fun card to use. Pretty sure he's not the only Lille player this year to pick up a TOTS item.

M. Kean ST – Paris Saint-Germain - 74 -> 87 Rated: After he picked up a silver star item earlier in the game the forward is now probably getting his TOTS item. The Everton loanee has rediscovered his best form on loan at Paris Saint-Germain with 12 goals for the French side, supporting the like of Neymar and Mbappe upfront.

C. Goldson CB – Glasgow Rangers - 79 -> 88 Rated: I wanted to include at least another defender and it was a bit hard to decide between a few but in the end my pick is Rangers defender Goldson. Rangers played an absolutely brilliant season that has brought them title number 55 and Goldson has been outstanding for his side at the heart of the best defensive unit in European football with just 11 goals conceded in 34 games. He also found the net four times and assisted another two and this might be one of the most deserved TOTS cards this year. Oh and not to mention his link to Tavernier which could be huge.
J. Hofmann RM – Borussia M'gladbach - 81 -> 90 Rated: Another decent midfielder card could come from the Bundesliga in the name of Jonas Hofmann. Despite Gladbach's worse run of games after the Rose announcment they still managed to keep in touch to the European spots and Hofmann has been one of the more consistent players for his side with five goals and 10 assist, the most one for Gladbach.

N. Lang LW – Club Brugge - 72 -> 86 Rated: This one was a bit difficult between Lang and Vanaken but I can't include both so my pick from Brugge is the Dutch International Noa Lang who is on loan from Ajax and scored 12 goals and assisted another 6 for his side and is one of the main reasons Brugge managed to win the title.

P. Daka ST – RB Salzburg - 81 -> 90 Rated: A player who gained further interest for a few top clubs is Salzburg's forward Patson Daka. He dominated the scoring charts in Austria with 20 league goals and two assists for his side. He could have had at least another two special cards so far this year and might now pick up a TOTS item as EA still has a hand in deciding about the players.

M. Antonio ST – West Ham United - 78 -> 88 Rated: West Ham's rise to the upper reaches of the table can be attributed to a number of their burgeoning stars, not least Declan Rice and Soucek, while Lingard has also added a touch of class in recent weeks. But Michail Antonio has been the emblematic player of the Moyes era in east London. As far as strikers go, Antonio is far from orthodox, but that is the beauty of his game and why he's so important for West Ham.

Make sure to check out my Prediction for the Team of the Season Silver Star Objective Player on Twitter!
Keen for more predictions, analysis and tips? Catch the latest FUT Weekly Podcast below: