Published on by lukezim 17 Comments Updated on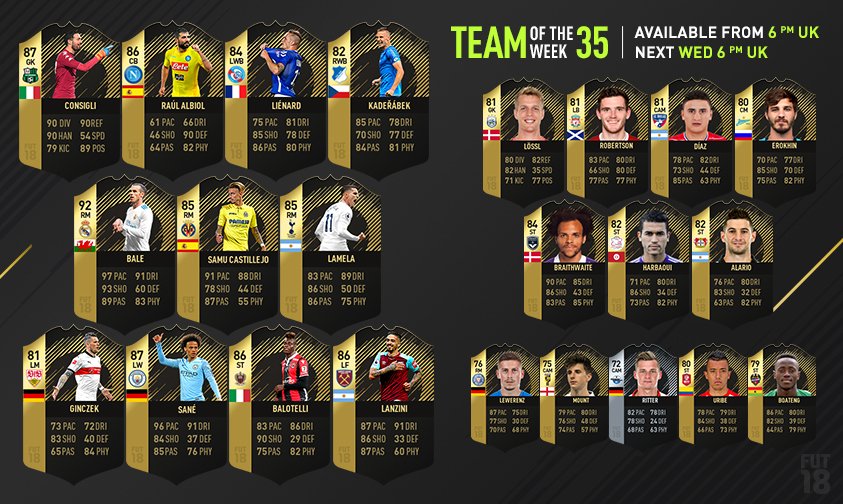 The last big dance for the Premier League during FIFA 18 Ultimate Team's weekly Team of the Week drop is upon us.
With the domestic season a wrap -- congrats to "Centurions" Manchester City on their record-smashing 100-point season -- PL players will likely only be included over the offseason for their contributions internationally.
While a few of the so-called "Big Five" domestic leagues (Italy most notably) have multiple fixtures to go, we've reached the tail-end of when these annual releases trend towards the respectable. May as well have our fun while we can before we get full MLS and Russian League sides.
Leading the group isn't a technical member of the 23 but rather a special item for an even more special campaign: Liverpool's breakout superstar Mohamed Salah bested the Premier League goals scored in a single campaign mark, and for it he gets a sexy blue and red item to close out the 17/18 season. His Ones to Watch item gets its last boost of the game as well (RIP).
Amongst the side proper, 92 TIF Gareth Bale is the biggest head turner in what is expected to be his last special item (pending a possible UCL Final MOTM, one would suppose) until August. With Wales missing out on WC qualification, the electric winger will have to settle for this 92-overall item, at least for the next couple months.
As we're wont to do, our sleeper of the week is relatively brief Middlesbrough player Martin Braithwaite. His latest in-form, a very solid looking 84-overall striker, now for FC Girondins de Bordeaux, may have its complications chemistry-wise, but maybe you can be creative and add him to your Ligue 1 TOTS, uh, TOTS Eriksen hybrids?
Here's the full FUT 18 Ultimate Team Team of the Week 35: