Published on by lukezim 21 Comments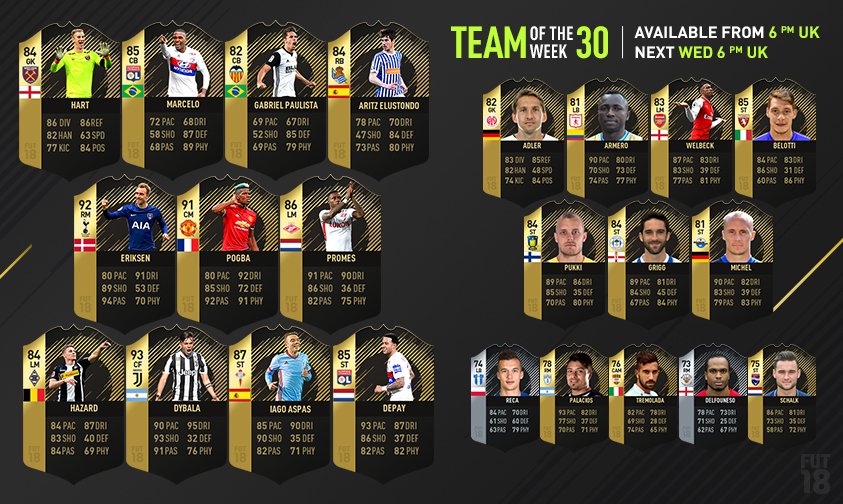 FIFA 18 Ultimate Team's Team of the Week 30 brings some interesting names to the virtual pitch. One curious omission though will surely have folks speculating however.
A 92 RM (!) Christian Eriksen, on the heels of keeping Spurs' Premier League winning streak afloat, joins a 93 CF Paulo Dybala -- who now has in-forms at LW, RW, CAM, and CF -- to lead the way this week. And we couldn't forget Manchester Derby game-changer, Paul Pogba. The blue-tipped mohawk sporting dab-king turned that rivalry contest around, and for it, he gets a 91 CM black-and-gold IF.
Those either playing the Path to Glory dynamic player items market or just fans of having items whose stats boost after top performances get a trio this week: West Ham's Joe Hart, still with a shout at England's third goalkeeper spot, get his first IF of FIFA 18. His PTG will now go up to 84 overall. Eden's brother Thorgan Hazard jumps to 84, while Danny Welbeck's late-winner as Arsenal continues trying to leapfrog Chelsea for fifth sees him up to 83 overall.
We've reached the point of the FUT IF cycle where "sleepers" are few and far between, but hey look, Will Grigg is all the way up to 84 overall (!). And it's hard to say a TOTW starter is anything of the sort, but Memphis Depay's 85 striker (insert all the fire-emojis) could potentially be a late-season FUT Champions darling.
Last but not least, the elephant in the room: no Lionel Messi. Yes, Tuesday was a disaster for Messi's FC Barcelona. But a hat-trick from midfield over the weekend should've gotten it done. Team of the Knockout Stage incoming?
Here's the complete FUT 18 TOTW 30: