Published on by lukezim 8 Comments Updated on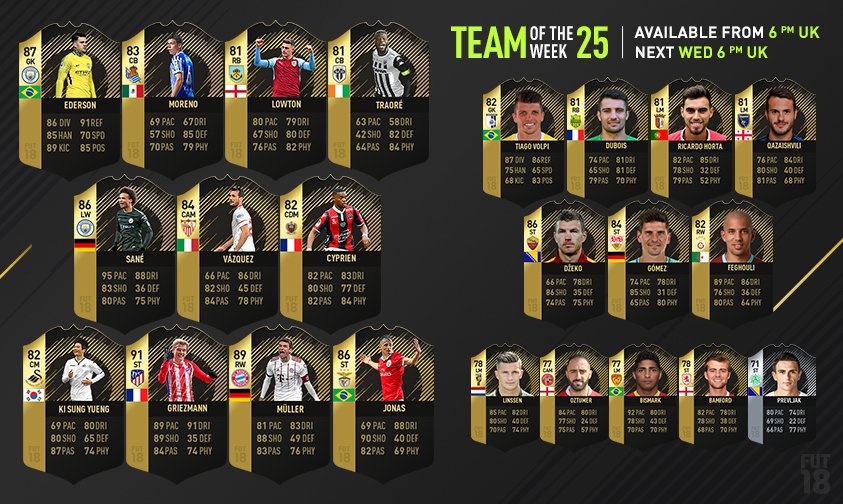 The 25th Team of the Week from FIFA 18 Ultimate Team has, let's say, give or take seven desirable pack pulls (/s). It's not summer-time "Team of the Weak" level bleak, nor is it peak FUT direct-deposit-your-paycheck-straight-into-the-game level enticing, but it's a fun team none the less.
91 Antoine Griezmann is the venerable head turner of the bunch. His best FIFA 18 special player item to date should be a pretty solid table setter for La Liga squads and/or hybrids until he gets his likely blue-and-gold Team of the Season item around May.
89 Thomas Muller, at his old treble-winning position on the right side, is probably the second most enticing item of the week. But with that low pace, outside of moving him to RM with a consumable, he's going to be a tough sell to the sweatiest amongst us.
Perhaps the most intriguing aspect of the week is the three dynamic player items who got in-forms, thus automatically upgrading their Ones to Watch and Path to Glory items respectively. Manchester City keeper Ederson will now be an 87 overall, while Leroy Sane is rapidly approaching his Player of the Month item on his PTG and Mario Gomez is finally a Stuttgart player on his neon colored collectible.
You can check out the full FUT 18 TOTW 25 here: