Published on by lukezim 21 Comments Updated on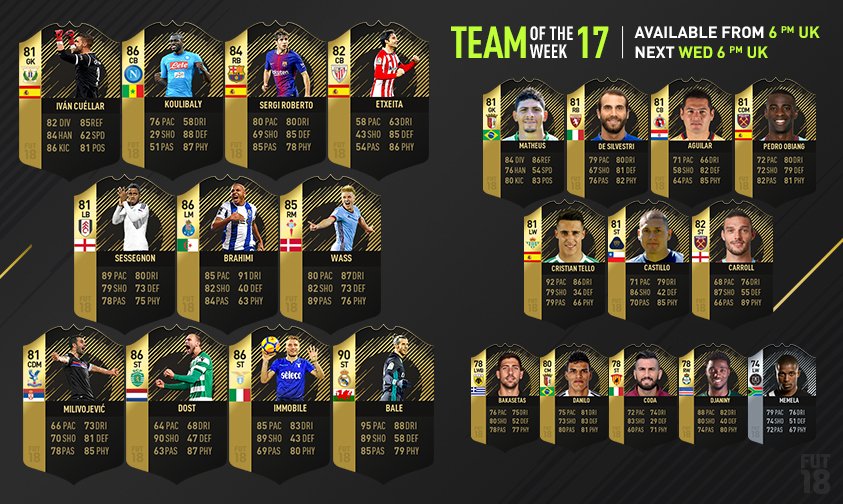 It's awfully hard to think about much beyond Team of the Year for the FIFA community at the moment.
That said, the show must go on, and with it, the Team of the Week that'll be available for the (presumed) first two days of TOTY is here.
The biggest immediate observation is the inclusion of Kalidou Koulibaly. The Napoli defender gets the nod after a rare high mark from Gazzetta -- he's ordinarily a WhoScored type darling but seldom particularly rated by the more traditional evaluatory systems. But he's also on the Team of the Year shortlist, so what does that mean if he inexplicably wins the EA or Community votes?
Our guess is, his TOTW item would probably still be safe, assuming defenders and goalkeepers don't go first like they did prior to last year. If they were in packs any days other than Monday and Tuesday, there'd be no conflict, and thus it wouldn't really matter if a member (no matter how improbable) of the TOTY had an in-form immediately before.
The big fish this week is of course none other than Real Madrid's Gareth Bale. With a spectacular 8.5 sofascore rating, his ubiquitousness on the pitch coupled with his usual class culminates in a 90-rated striker card you won't want to miss out on.
As per usual, here's the complete FIFA 18 Team of the Week 17: